[Scitec Nutrition] Multi Pro 30 paks € 30.-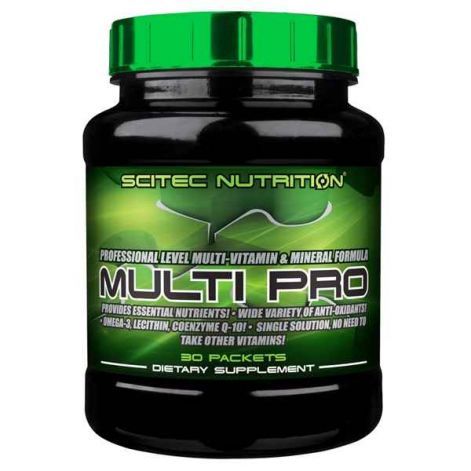 - Complete, professional level multi-vitamin & mineral formula!
- Wide variety of anti-oxidants!
- Omega-3, lecithin and coenzyme q-10!
- Single solution, no need to take other vitamins!

MULTI PRO is a professional level multi-vitamin and mineral formula in a packet of six tablets/capsules. Vitamins and minerals are very basic essential nutrients that must be adequately provided for optimal health and high level sports performance. However, in today's toxic environment and with the availability of mostly nutrient deficient food, we need to rely on precision supplementation to safeguard the human body. MULTI PRO provides a wide variety of anti-oxidants including selenium and grape seed extract. We also included an essential omega-3 fish oil capsule, a lecithin capsule, and cell-energizing Coenzyme Q-10.


[Universal] Animal Pak (Vitamine) 44 paks € 40.-


The Ultimate Training Pak! Pure Power. Pure Strength. Pure Animal Intensity!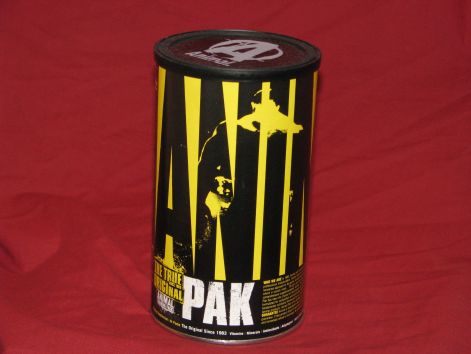 The #1 selling training pak in the world for over 25 years straight. Since 1983, more competitive bodybuilders have cut their teeth on the Animal Pak than any other bodybuilding supplement in history. Why? Simple. Animal Pak gets the job done. It works. First time. Last time. Every time.

Nature, in all her ingenuity, has designed the human body as the ultimate performance machine. Fact is, since the dawn of mankind, our bodies have changed very little. When it comes to feeding our muscles, we still need the nutrients we get from our diets. But when it comes time to grow our muscles in a freakish way, we need the right combination and mega-doses of essential amino acids, carbs, vitamins, minerals and antioxidants. Only Animal Pak has what you need. You're the kind of primal beast who trains with Animal intensity. You need plenty of the above, plus that little something extra only Animal Pak provides. That's why we've also loaded the Animal Pak with performance optimizers such as PAK, CoQ10, carnitine, lipotropics, L-arginine, eleuthero, and the like. In every pak, you're blasted with a dizzying array of over 60 key ingredients which are delivered in the right amounts at the right time, every time.

Serving Size: 2 Paks, Servings Per Container: 22




[Scitec Nutrition] Daily One (Multivitamins) 75 caps € 25.-


Multi-vitamin and mineral sustained release


Supplement Facts
Serving size: 1 tablet
Amount per serving %Daily Value
Vitamin A (fish liver oil) 10000 IU 200%
Vitamin C 250 mg 313%
Vitamin D (fish liver oil) 400 IU 100%
Vitamin E 400 IU 2233%
(d-alpha tocopherol acetate)
Thiamine (as thiamin HCI) 50 mg 3571%
Riboflavin 50 mg 313%
Niacin (as niacinamide) 50 mg 1786%
Vitamin B6 25 mg 1786%
(as pyridoxine HCI)
Folic Acid 400 mcg 100%
Vitamin B12 200 mcg 8000%
(as cobalamin concentrate)
Pantothenic Acid 50 mg 500%
(as calcium pantothenate)
Calcium 150 mg 15%
(as calcium carbonate)
Iron (as ferrous fumarate) 18 mg 100%
Iodine (from kelp) 225 mcg 150%
Magnesium (as gluconate) 100 mg 27%
Zinc (as gluconate) 10 mg 100%
Copper (as gluconate) 2 mg 200%
Manganese (as gluconate) 5 mg 250%
Potassium 10 mg <1%
Lipotropic Factors
Choline Bitartrate 50 mg †
Inositol 10 mg †
Non-medicinal
Betaine HCI 30 mg †
Para Amino Benzoic Acid 25 mg †
Rutin (eucalyptus) 25 mg †
Lemon Bioflavonoid 10 mg †
Hesperidin 10 mg †
Other ingredients: whey (milk), magnesium stearate and stearic acid.



Daily One is a super high potency multi-vitamin and mineral complex. Daily One also contains lipotropic factors for lean muscle mass and digestive enzymes to help you break down and utilize your foods. This product is formulated for the serious athlete who needs to be on the cutting edge. All athletes realize the importance of using the right combination of vitamins and minerals to give the body all of the nutrients it craves to perform to its maximum potential.

[OPTIMUM NUTRITION] Opti-Women Multivitamins 120 caps € 30.-

More Than A Multi! Women's Formula For Optimum Health!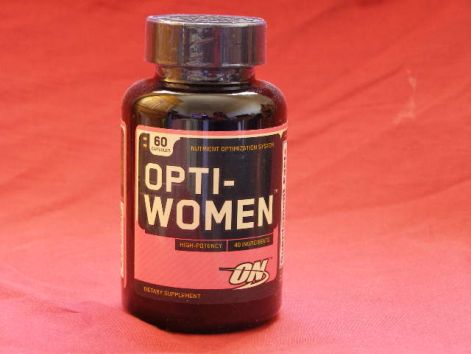 Beyond The Basics
- 23 Vitamins and Essential Minerals
- 100% DV for Iron, Zinc and Other Minerals
- 150mg of Calcium
- 17 Specialty Ingredients Including Soy Isoflavones, Chasteberry,Extract, Dong Quai and Uva Ursi
- Easier-to-Swallow Capsules

[NOW Foods] BIOTIN (H vitamin) 5.000 mcg/120 vcaps € 20.-
Necessary Vitamin For Normal Growth And Body Function!
Why Do People Use Biotin?

There is little solid evidence that biotin supplements are effective for acne, eczema, brittle nails, diaper rash, cradle cap or hair loss.
Oldal: VITAMINS (SCITEC MultiPro,Animal Pak, Daily One, Opti-women)
FLEX SUPPLEMENTS - © 2008 - 2018 - flexsupplement.hupont.hu
A HuPont.hu honlap ingyen regisztrálható, és sosem kell érte fizetni: Honlap Ingyen.
A HuPont.hu ingyen honlap látogatók száma jelen pillanatban: